Inspection of Coatings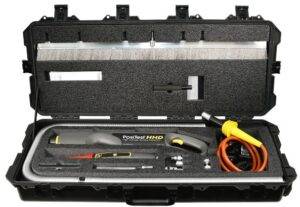 The expected service life of a corrosion protection system represents the economic value developed for the system (which sometimes exceeds 20% of the total project value), by providing an asset (e.g. structure, bridge, power plant, tank, etc.) with corrosion protection. The selection of a particular corrosion protection system is typically a function of economic, operational, environmental and safety issues.
Inspection during the installation of a corrosion protection system serves as a tool to ensure that the installed system is within its design parameters. The focus of industry efforts regarding practices, standards (NACE, SSPC, ASTM), and training has been primarily directed toward this mission.
In ISS RD, SRL we carry out certified tests for the application of coatings such as
Holiday Inspection
Anchor profile tests
Paint adhesion test
Coating thickness measurement
Dry Film Thickness Measurement
Wet Film Thickness Measurement
At ISS RD, SRL we have experienced inspectors with a vast knowledge of NACE, SSPC, ASTM and ASME code standards and NACE II certified inspectors. We also have inspection equipment for branded coatings such as Delfesko and Elcometer which are the standard in the market.