Digital Radiography (RTD)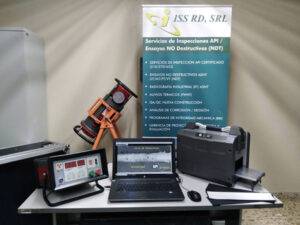 Computerized Radiography or Digital Radiography (CR) offers a convenient and reliable way to use conventional radiographic testing to verify with better definition and accuracy, physical states of equipment, pipes and fittings, without the need to impact on the industrial processes in execution.
Digital X-ray testing uses equipment very similar to conventional radiography, except that instead of a film to create the image, a photo-stimulable phosphorus image (IP) plate is used. That image is read by a scanner and the results are presented in digital form in less than 1 minute after the image is scanned.
Its advantages are:
Short exposure time, resulting in smaller barricaded areas.
Systems/equipment may be operating normally.
Remaining thickness measurements with a range of 0.1mm accuracy.
No chemical development processes.
Obtaining results on the spot.
Digital format allows remote evaluation, digital data transfer, perpetual data storage that does not require physical space.
It allows defect evaluation without removal of thermal insulation.
We use Carestream Industrex HPX-PRO Portable Digital System digital radiography equipment designed for portable industrial operations with results in minutes.
At ISS RD, SRL we have experienced inspectors with vast knowledge of radiological safety, duly certified by the National Energy Commission, Nuclear Division of the Dominican Republic and licensed to operate in the national territory. In addition, we have our practice of non-destructive testing of industrial radiography (ASNT RT Testing) with ASNT RT Level II and Level I inspectors with more than 20 years of experience in the evaluation of defects.
All of our inspectors and industrial radiography program are endorsed and certified under the American Society for Non-Destructive Testing (ASNT) scheme and certified ASNT RT Level III inspectors.