Metallographic Replicas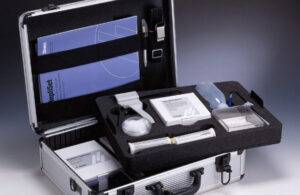 Metallographic replicas, also known as field metallography, is a non-destructive test (NDT), excellent for field inspection, as it can guarantee the quality of the material and welded joints, materials, parts, components and analysis of their residual life in a forensic way.
Metallographic replication is a technique that allows the analysis of the microstructure of an equipment or component without the need to damage it for the test. In the metallographic replica, no sample is taken from the product if a copy of the microstructure is not made at each of the inspection points.
Field metallography allows the microstructure of the material to be recorded in the replica (copy), which can be analyzed by electron or optical microscopy. Depending on the quality of the replica, chemical analysis of precipitates found in the microstructure is possible.
The metallographic replica service follows the following steps:
Identification of analysis sites.
Preparation by sanding
Polished
Attack with metallographic reagent
Acetate adhesion and removal
Laboratory analysis using an optical or electronic microscope.
Issuance of the report
ISS RD, SRL offers metallographic replication services through experienced and trained personnel who can guarantee the quality of the service. With the metallographic replica it is possible to evaluate signs of sensitization, grain growth, corrosion susceptibility, corrosion under stress, spherification processes, fatigue, cracks, etc. that are indications of material aging when exposed to high temperatures or out of balance.