Tanks (API 653)
The American Petroleum Institute standard (API-653 - Inspection, Repair, Alteration, and Reconstruction of Tanks) - is based on the knowledge of the experience of owners, operators, manufacturers, and repairers of storage tanks. The objective of this standard is to provide guidance on the inspection, repair, alteration, and reconstruction of steel storage tanks used in the petroleum and chemical industry.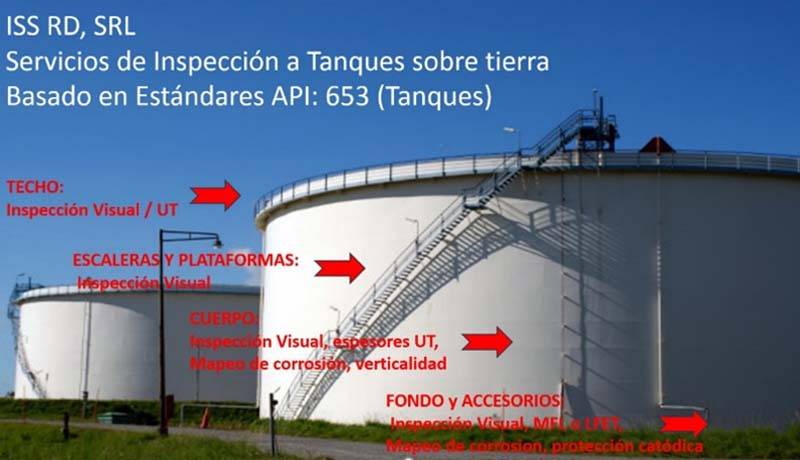 Why are we inspecting tanks?
Prevent leaks to the secondary containment system or to the subsoil.
Establish a baseline of tank condition and corrosion rates.
Identify problems to make repairs before having a significant containment problem,
Minimize the possibility of catastrophic tank failure
Comply with corporate procedures and established international standards such as (API, OSHA CFR 1910.119, etc.)
ISS RD, SRL has experienced inspectors certified under API 653 to inspect all types of storage tanks following the Inspection protocols approved by API 653.
Evaluation of historical data and generation of inspection plan
Visual inspection of welds, plates and accessories
Thickness measurement by UT to the body and ceiling
MFL or LFET to identify corrosion on the tank floor
Vacuum chamber inspection to floor welds
Study of settlement, verticality and roundness
Maximum fill and remaining life calculations
API 653 Report for Fitness for Service and Recommendations